Covid Solutions
     helping you get back to business.
Mission
Delivering the most efficient Covid Mitigation Solution for your business.
Haven Upper Air Sterilizers
by Haven Labs
Learn how Haven Upper  Air Sterilizers protect the people in your indoor spaces
Haven Upper Air Sterilizers emit germicidal UVC light to provide real-time protection against airborne pathogens. An upper-room UVGI, specialized lamp fixtures distribute UVC light through the upper portion of space while people are in the room, providing protection against person-to-person aerosol transmission in real-time. Natural air currents and warm breath carry pathogens emitted in the lower room through the irradiated zone, which is well above head height, where they are killed. Other applications of UVC, such as room disinfection carts, chambers and wands, provide one-time disinfection but are not meant for continuous protection.

Real time Protection of Occupied Space
Haven Upper Air Sterilizers bathe the upper room with constant UV-C light that kills viruses while air naturally circulates through the occupied space.
Visible Security
Your customers will feel safe when they see Haven Upper Air Sterilizers protecting your occupied indoor spaces.
Designed for Safety
Virus killing UV-C light is emitted at a safe overhead height, allowing for continuous operation in occupied rooms. Have Upper Air Sterilizers are designed to IRC 62471 photo-biological safety standards.
Flexible Use
Haven Upper Air Sterilizers are easily assembled and portable so they can be deployed quickly and adapted easily to evolving situations. Disassemble and store your Haven when needed.
Stable Design
Haven Upper Air Sterilizers' solid metal base is sized for stability and integrated safety sensors ensure safe operation at all times.
FLIR EST™ Kiosk- Skin Temperature Screening Solution
Quickly screen passengers, customers, or employees for signs of elevated skin temperature with this turnkey solution. The FLIR EST Kiosk combines the temperature measurement capabilities of a thermal imaging camera plus FLIR Screen-EST™ software with the convenience of a tablet display and floor stand. This kiosk sets up in minutes, offering fully automated, self-service screening that targets the inner canthus (corner of the eye) for accurate skin temperature measurement.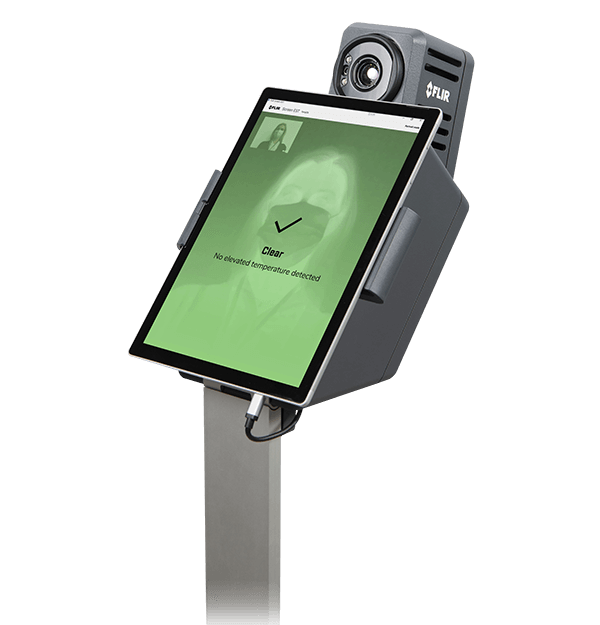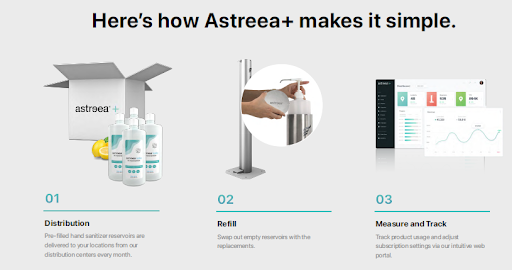 Astrea – The world's only smart sanitizer solution
Astreea is the world's most popular pedal-activated hand sanitizer dispenser. Manufactured in the EU by ARSAT. The easiest way to order, distribute, and track hand sanitizers across all your locations with a convenient monthly subscription, and no upfront investment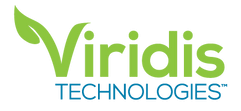 Viridis Juggernaut
Antibacterial Formula Cleans and Disinfects
Viridis Technologies Juggernaut kills 99.9% bacteria in 5 seconds and cold & flu viruses.  This antibacterial formula cleans & disinfects hard non-porous surfaces and sanitizes soft surfaces & fabric.